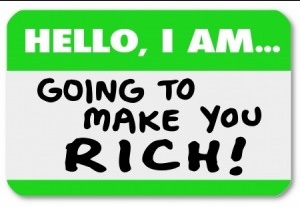 What's the truth about expensive real estate investing coaching programs? Are they worth the money we pay for them?
For today's InvestorGator news bite, let's take a quick look at real estate investing coaching programs and what we can do if we impulsively buy into an expensive coaching program at a boot camp or seminar, and then change our minds and decide we want a refund after we've already paid for it.
Most real estate investing coaches want their money immediately without regard to our personal financial situations. I know people who put themselves heavily into credit card debt to buy into a coaching program and who are now struggling to even put food on their tables.
Recently, the HGTV gurus have come into Columbia to hold free two-hour seminars where they pitch their 3-day trainings. If you pay and go to their 3-day trainings, you get upsold into coaching programs that can easily cost $25,000 or more for just a year of coaching. The 3-day trainings almost always just consist of very basic information that you can get for free just by searching online and networking with experienced real estate investors. You must pay for their coaching programs if you want them to give you any real attention and help.
The idea for this topic came to me after I tried to attend a 3-day boot camp last week, (May 9-11, 2019 and not based on the timestamp of this post) that was held by a local investor solely with intentions of my learning and possibly asking him to speak at our real estate investors association, the Midlands REIA. Rather than get the chance to learn how this investor teaches, I was told to leave by the investor/instructor because I made the two "business strategists" (really salespeople) from Alabama that he teamed up with uncomfortable and he said that they were worried that my presence, as someone who helps run a different real estate investors association than theirs, would prevent them from making any sales of their own products and services. As far as I'm concerned, it's a big red flag when the instructor of a boot camp is more concerned with making sales rather than whether his boot camp attendees learn anything or not.
This local investor/instructor was following the typical sales technique as the national gurus. Before I was kicked out of his boot camp, I counted 21 attendees there including myself. Easily half of them were already members of our real estate investors association, Midlands REIA, so I wasn't there to steal people from him, and it was easy to get a rundown of what he and his two salespeople covered from the attendees, all of the content being easily available on the Internet. A short summary of his schedule went something like this:
Day 1
Wholesaling

Financing

to buy startup materials with a loan from

Seed Capital
Day 2
Owner

financing




Offer to coach you for a year for $25,000 and you paying for it with a loan from Seed Capital

Investing with retirement accounts
Day 3
Rehabs

Questions & Answers
Throughout this 3-day boot camp, the two salespeople were talking with attendees outside of the room to supposedly give them guidance on how to set up their real estate investing businesses. If you qualified for funding from Seed Capital, which is easy to do, you were told that you could pay for coaching and other things with a Seed Capital loan. This is the typical mode of operation with the national gurus, as well, whose salespeople lure you into incurring high credit card debt to pay for coaching by telling you that you can buy their expensive coaching now and easily make the monthly payments then pay it all back quickly from profits you'll make from just a few deals.
In theory, buying into expensive coaching programs and quickly paying back the large debts incurred from them with profits that result from coaching seems to make sense so why not just go ahead and do it? The reality is that most people won't even do a single deal, but the coaches still get paid whether you succeed or not. National speakers who spoke at Midlands REIA have told me that the success rate of new real estate investors doing even a single real estate deal is as low as 3%.
Unlike the real estate coaches telling you to incur debt to buy into their coaching, I believe that the fundamentals of real estate investing can be learned for very little cost just by following good podcasts, other online programs, books, and networking with experienced investors at your local real estate investors associations and elsewhere.
Rather than tell new real estate investors to get loans to buy into expensive coaching programs, I tell them to learn the basics of real estate investing for free, or for very little cost, make money with some deals, and then use those profits to buy into coaching programs if they still want to do that. I know a few still-new real estate investors who seem to be doing well without buying into any coaching at all and they may never want, or need, to get any coaching.
Now what do you do if, after buying into an expensive coaching program, you go over your personal finances and decide that going into large amounts of debt to buy coaching isn't such a good idea at the time? In South Carolina, you may be able to legally get your money back by the South Carolina "Consumers right to cancel door-to-door sales contracts" law.
Under federal law, sales which take place in facilities rented by the seller on a temporary or short-term basis can also be classified as "door-to-door sales", which includes conference and meeting rooms where real estate investing coaches often sell their services to you under the pretense of teaching you at boot camps and seminars. In South Carolina, you are allowed up to THREE BUSINESS DAYS from the time of purchase to cancel it.
I don't oppose all coaching to teach real estate investing. I am against telling investors to rack up large amounts of debt to buy it, especially the new investors.
As always, feel free to contact us with questions and suggestions on how to better serve you.
—
Bob Kim, Member Support
Midlands REIA
Columbia, SC
803-292-2227
Did you know that federal law gives explicit rules for the return and refund of consumer purchases, including real estate investing coaching programs, under the Federal Trade Commission's Cooling-Off Rule?